Bachelor of Science in Biology (1998)

Florida Southern College, Lakeland Florida
Competed 3 years on the women's golf team

Bachelor of Science in Physical Therapy with Distinction (2004)

University of Alberta, Edmonton Alberta

Licensed physiotherapist in private practice since 2004 working in areas of orthopaedic and sport therapy.
Currently provide one-on-one physiotherapy service and YourGOLFBODY sessions through Andrea Kosa Physiotherapy Services and at the Health and Performance Centre at Golf Canada Centre Calgary.
Physiotherapist for Golf Canada National Developmental Team Program 2013-2014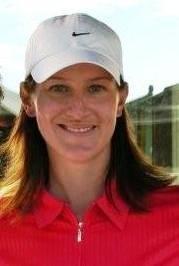 Andrea's career in physiotherapy arose from learning about anatomy and injury healing from her physiotherapist as it related to injuries sustained playing high school sports of basketball, volleyball, javelin and badminton. She graduated in 2004 from University of Alberta with a Bachelor of Science in Physiotherapy after completing a Bachelor of Science in Biology at Florida Southern College in 1998 where she co-captained the Lady Moccasins Golf Team.
Upon graduating, Andrea was committed to further develop her knowledge and skills within the field of physiotherapy by completing a number of courses, including Acupuncture, Manual Therapy, Titleist Performance (TPI) Medical and Selective Functional Movement Assessment (SFMA). With this education she has been able to offer golf specific assessment, treatment, performance improvement and injury prevention sessions under her business of YourGolfBody.
Currently, Andrea is a consultant Physiotherapist with Golf Canada and works with the National Men and Women Developmental teams which requires her to travel to team camps and monitor players throughout the year. This opportunity has allowed Andrea to work with and learn from the best in the golf performance industry in Canada! She also shares her time and knowledge with the 2013 Provincial Champion Carstairs Ladies Golf Team in the summer. Andrea served as volunteer physiotherapist at the 2004 Web.com event (Nationwide Tour) at Redwood Meadows and 2009 Brier (Canadian men's curling championship).
Andrea is Trained/Certified in:
Acupuncture through AFCI
Manual Therapy Upper and Lower Level 3
Titleist Performance Medical Levels 2 & 3
Titleist Performance Fitness Level 1
Selective Functional Movement Assessment & Treatment
Registered with the College of Physiotherapists of Alberta
When not working at a physiotherapist or chasing her little girl Cali around, Andrea works on her own golf game and competes as an Amateur at National Level in Canada and United States. As a scratch golfer, she has attempted Monday Qualifying for the CP Ladies Open – LPGA event in Canada and missed out by one spot! With her experience on and off the course, she recognizes golf is a sport enjoyed at many levels, for many reasons, and by many people young and old. One consistent thing continues to appear – we all can get better!