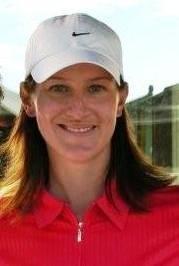 I started playing golf in the early mornings with my Dad at The Canmore Golf and Curling Club. He suggested that I Start to play more and had me join the Ladies League in Canmore and this is where I learned to have fun while playing golf!
After two years at the University of Calgary, I decided that Golf might just be my sport...so I practiced, played in tournaments and sent video and a golf resume to schools in the "warm" states. In 1994, I received two letters of acceptance for their golf teams: Florida Southern College and Oregan State. I chose the sunshine and off I went to play NCAA Division II Golf for the MOCS!
Playing for Florida Southern College was a great experience with many highlights:
3rd place team finish NCAA Division II Nationals 1996
Qualified as an individual for the NCAA Division II Nationals 1997
2nd place team finish NCAA Division II Nationals 1998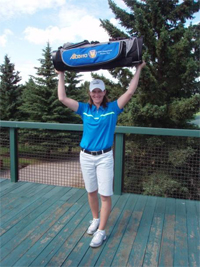 In 2002 I was fortunate to get a Hole-In-One and a $10,000 Prize at the Golden Mix. I did lose my Amateur status for a year, but the money came in handy for school tuition.
Once I started practicing physiotherapy in Calgary I began to play in more golf events like the Alberta Amateur and the Canadian Amateur. In 2007, I competed in the Calgary Ladies Amateur at The Calgary Country Club. With some good fortune and a good sister who caddied for me on the second day where I shot 2 under, I ended up winning the event. Other events where I competed that year:
CN Tour Event at River Spirit, Calgary AB
Alberta Amateur, Petroleum Club, Edmonton AB
Royale Canadian Amateur, Moncton GCC, Moncton NB
Monday Qualifier for CN LPGA Canadian Open, Petroleum Club, Edmonton AB
2010 was an extraordinary year for me and golf!
Tied 2nd Place BC Mid Amateur, Arbutus Ridge, Duncan BC
Sunlife Alberta Amateur and Mid Amateur

Qualified to represent Alberta in 2009 and 2010 at Nationals
Won Alberta Mid Amateur 2010

Placed 3rd at Royale Canadian Mid Amateur, 2010
Monday Qualifier for CN LPGA Canadian Open, Elmhurst, Winnipeg MB

Top 4 qualified, I placed Tied for 5th
My goal is to compete at the highest level as an amateur and educate players of all levels about their golf body. What a dream to play in the LPGA in Canada... maybe next year?